Joseph Joe Landskee is an old fan of El-Bow and top supporters of P.O.I.N.T.
But a years later after the sandwich incident, his face have been permenantly scarred from the explosion and until boxman recently recovers him, and then Joe realized that it is the heroes that abandoned him underground and decide to rename himself Half-Face.
He's now Boxmore Industries most loyal human intern.
Abilities and Powers
Although he didn't have superpower, and also on the level -8, his only power is being prepare and invent weapons for the boxmore bots include his own weapon, the Tramilizor gun, which can dart any targets and induces them to sleep.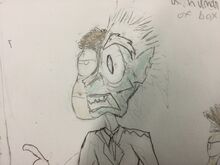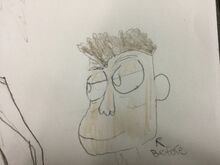 Community content is available under
CC-BY-SA
unless otherwise noted.